Make Music Day is Sunday, June 21st with so many offerings! Help us support musicians impacted economically by COVID and UCAN for equity in music.


Check out the "Participate" page for our full schedule!
A Message about Make Music Day 2020 from the Make Music Alliance:
Dear friends,
We hope this finds you safe and healthy.
Like all of you, we are grappling with the huge impact COVID-19 is having around the world, and in our daily lives. As we plan for Make Music Day on June 21, 2020, we don't know if public gatherings will be feasible at that date, or if everyone will be "social distancing" and stuck at home.
Despite this uncertainty, we wanted to let you know that Make Music Day will still be happening on June 21. Unlike traditional music festivals, Make Music Day is an open invitation for everyone to make music anywhere and everywhere. We hope to be taking over the streets with music on June 21, but if we can't, we invite you to join one of the online Make Music Day initiatives that will take place no matter what.
Live From Home Challenge: Record a musical performance at home on June 21, and tag three friends to challenge them to respond with their own performances.
Online Music Lessons: Teachers around the world will be offering free, online lessons for a variety of instruments on June 21.
Street Studios: Be part of a completely improvised music creation session. Record any sound or musical material on June 21st and upload it to one of the "Street Studio" producers, then watch the producer's livestream as they incorporate it into a musical track created on the spot, using only the submitted materials.
Bands Undercover: Individuals or bands sign up to cover each other's original music, and live stream their performances to each other in a unique musical exchange on June 21.
Young Composers Contest: Composers between the ages of 13-21 are invited to submit short, original compositions for choir by June 1st. A panel of renowned composers will give their feedback on all entries, and will select one winning piece to release on June 21 to the world in a professional performance.
Global Livestream: a day-long video stream on June 21 will show the rich diversity of live Make Music Day events around the world.

More details for each of these initiatives will be announced soon. (Do you have other ideas? Just reply to this email and let us know.)
In this time of social distancing, music's powerful role to bring us together as a community is more important than ever. While physical public gatherings may not be currently accessible, we can still stay connected online and celebrate music.
Of course, we still hope to come out together in public on June 21 — in the coming weeks, look for announcements from your local Make Music Day coordinators with updates. But above all, we are committed to supporting the health and well-being of the public during this challenging time, and will follow the guidance of government health departments to make sure everyone stays safe.
Sincerely,
Make Music Alliance (U.S.)
Make Music Day UK
Make Music Australia
Fête de la Musique Deutschland
Confederation of European Music Industries (Italy)
PS: if you are stuck at home in the coming weeks or months, post a video of yourself making music with the tag #makemusicday and we will share it.
PPS: Wash your hands!
What is Make Music Madison?
Make Music Madison is part of Make Music Day, the global music celebration happening in over 1,000+ international cities. It's a free, citywide, outdoor day of music held annually on the summer solstice, June 21st. Make Music Madison turns the city into a stage welcoming a full spectrum of performers. Initiated in 2013 as Madison's entry into the international summer solstice music celebration, we join hundreds of millions of people all over the world for Make Music Day.
Make Music Madison 2019 was presented by the generous support of Madison Arts Commission and Isthmus with additional sponsorship by Dane Arts, Digital 206 – La Voz de Latina America desde Wisconsin, Wisconsin Public Radio, WORT FM Community Radio, and WSUM Student Radio.
In 2020 our celebration takes place on Sunday, June 21st which is Father's Day! Typically, coffee shops, restaurants, front porches, and businesses all over Madison will fill their locations with song. Brunch patrons may find themselves serenaded by a middle school string quartet. Residents will travel all over the city to see new neighborhoods and enjoy live music. This year, we will make arrangements based on recommendations from the state of Wisconsin.
Make Music Madison is:
Performed by Anyone, Enjoyed by Everyone.
A way for all Madisonians to celebrate the summer solstice, enjoying the longest day of the year, while sampling a buffet of musical merriment.
A DIY city-wide celebration when almost any way to make music can and will happen.
Make Music Madison is open to music makers of all ages, skill levels, and musical persuasions.
When and where will Make Music Madison take place?
Make Music Madison will take place on the summer solstice, Sunday, June 21, 2020. Typically at a hundred locations across Madison.
Who is Make Music Madison?
Make Music Madison is Performed by Anyone, Enjoyed by Everyone, and takes a dedicated team of volunteers to bring it all together. We have a small board comprised primarily of group leads for larger teams of volunteers who focus on venues, musicians, matchmaking, mass appeal events, technology, publicity, and fundraising. In addition we have a single seasonal paid position for our managing director.
Current board members include Jamie Kember (president), Ashley Massart (treasurer) and Michael Anderson (secretary).  Natasha Stevens Sattin serves as our managing director. Beyond this we have a talented and growing volunteer team of planners. To join our merry crew, email us at info@makemusicmadison.org.

Make Music Madison 2020 – A Virtual Festival
Sunday, June 21st – Make Music Day – Father's Day
Join musicians in over 120 countries and in communities all across Wisconsin.
This year, instead of gatherings and playing for live audiences, we welcome individuals or members of the same household to check out all the ways to experience and share music virtually.
Make Music Madison 2020 is dedicated to raising funds for racial justice in music and to support local musicians who have lost income due to COVID. Half the funds will go to the Urban Community Arts Network – UCAN, dedicated to supporting sustainability in the Madison Hip-Hop community and advocating for equity in local arts and entertainment. The other half will go directly to helping musicians economically impacted by the pandemic. Please use the following link which brings you to our Paypal. http://www.makemusicmadison.org/support/
From 30 Madison concerts, to dozens of lessons, a song swap, music writing, production, and instrument making, there is something for everyone
Click the following links or keep scrolling to learn more:
Live From Home Concerts
    
Live from Home Virtual shows all day June 21st, presented by Madison artists. Click the musician's name to be redirected to their Facebook or Instagram livestream and enjoy the show!
Audiences also can visit Facebook and Instagram and search #makemusicmadison, #makemusicday and #livefromhome to explore more performances.
9:30 AM
Dan Stier – Folk
9:30 – 10:30 AM
Michael McGrath – Fingerstyle guitar
10:00 AM – 12:00 PM
Matilda Music – A trip hop DJ set for feel good vibes. Performing on Twitch.
10:00 – 10:20 AM
The Mood Family Band – Our six piece family band plays an eclectic mix of music from many genres and eras
11:00 – 11:20 AM
Angela Puerta Music – Latin Rock and Colombian folklore
11:00 – 11:25 AM
Nicole Saunders – A girl, a guitar, and covers of the Beatles, Ingrid Michaelson, Ben Harper, and more
11:00 – 11:30 AM
Lynn Gillitzer – Guitar covers and originals – FREE keyboard giveaway contest
11:00 – 11:30 AM
Rhonda Chalone Music – Solo piano performance of Gershwin's Rhapsody in Blue
12:00 PM
Bach Dancing & Dynamite Society – Chamber music with a Bang! Pre-recorded at our summer chamber music festival.
Instagram performance posted here, Facebook here
12:00 PM
Madison Flute Club – Various pieces from Madison Flute Club members
12:00 – 12:10 PM
Rex Loker, Emily Loker and Tom Sinclair – Topical acoustic folk
1:00 – 1:15 PM
Gloria Hays – Traditional Hammered Dulcimer music with vocals
1:00 – 1:15 PM
Justin Sattin – Novice classical guitar
1:00 – 1:30 PM
Matt Rodgers Music – Solo & looped bass
1:30 – 2:00 PM
Grant McAndrew – Dance for people that can't dance: IDM, EBM, ETC.
1:30 – 3:30 PM
Wild Hog in the Woods Coffeehouse – One song each from 27 different performers from past appearances at the Wild Hog! Variety of singer/songwriter, folk and acoustic music.
2:00 – 2:30 PM
Nick Venturella Endeavors – Original folk/pop music about life's ups and downs underscored by a spirit of hope
2:00 – 2:10 PM
Joe Kemmerling – A pre-mixed recording of an original funk song played on 24 instruments by one musician
3:00 -4:00 PM
Jaime Guiscafre – Solo classical, Latin and original guitar music.
3:00 – 4:00 PM
Manwich B. – Solo singer/songwriter guitar/vocals covers/originals.
4:00 – 4:15 PM
Juciee Monroe – HIP HOP
4:00 – 6:00 PM
Stephanie Rearick, Bucky Pope, together and separate piano based classical/cabaret/pop
5:00 – 5:45 PM
J. Marsden – Guitarist/singer/songwriter combining influences of Neil Young, John Frusciante, and Alice in Chains to create his own take on 90's era acoustic grunge rock
5:00 – 5:10 PM
South Owen Drive Sax & Drums – A few songs, various styles
7:00 – 7:05 PM
Forward! Marching Band – Madison's own activist street band, committed to social justice, to joy, and to fun. BLM!
7:00 – 7:45 PM
Seraphina Provenzano – Singer-songwriter with a knack for playing intricate fingerstyle guitar and writing lyrics that tell a story
7:00 PM
Lil Guillotine – Revolutionary Hip Hop
8:00 PM
Drumming from Your Doorstep
From 8:00-9:00 PM on June 21st, everyone is invited to join the city-wide drumming session from your front door. Individuals and members of the same household, head outside to your patio, stoop, or front porch to top off Make Music Day. Let's hear drumming in all corners of Madison. In partnership with Make Music Australia and Make Music China, the Make Music Alliance invites everyone to record and post a musical performance from home on June 21. For safety, instead of gatherings or playing for audiences, individual musicians and members of the same household are invited to play from home. You can even tag a few friends to challenge them to do the same.
Global Livestream
On June 21, music rings out simultaneously across more than 120 countries. Whether you are beneath a skyscraper in Beijing or along the shore of a small Greek fishing village, you will find people making music. Visit the Make Music Day Global Livestream website on June 21st to listen to musicians from all over the world.
Drumming from Your Doorstep
From 8:00-9:00 PM on June 21st, everyone is invited to join the city-wide drumming session from your front door. Let's hear drumming in all corners of Madison. Individuals and members of the same household, head outside to your patio, stoop, or front porch to top off Make Music Day.
25×12: Live Online Lessons
Dozens of free online lessons!
Take a voice lesson with Hamilton cast member, Daniel James Belnavis, or a classical guitar lesson with Madison's own Emmy award winning Jaime Guiscafre.
Visit the Make Music Day Live Online Lessons page for details.
This June 21, music teachers from around the world will offer 12 hours of free, online group lessons for 25 different instruments, at a range of levels from beginning to advanced. Jump around to sample a range of instruments, or binge on 12 straight hours of your favorite.
Teachers and master musicians include Chelsea Starbuck Smith, Elise Ecklund, Andy Blanco, Kanako Shimasaki, and Caleigh Drane.
Her Infinite Variety on WORT – Make Music Madison Show 
Celebrating women in music and arts! Tune in to Cooper Talbot's weekly show on FM 89.9 WORT from 12:00-2:00 PM. This weekend's show will be dedicated to Make Music Day featuring Madison's local talent.
Bedroom Studios
Update: A dozen Bedroom Studios are ready to go! Record your voice, your instrument, or your found sound and send to our producers, then watch them turn your contribution into a brand new piece. All details here.
Work with producers around the world like Ale Medina, J Dash, Algernon Artworks, Ben 'Arsenal' Schneible, Natie (shown from left to right).

This American Song

This American Song is a new Make Music Day initiative, capturing the stories and experiences of ordinary people from around the country at this unprecedented time.
Working through our local chapters, the Make Music Alliance has lined up fifty people of all ages with a story to tell, one in each of the 50 States, along with fifty professional songwriters in a variety of styles.
On the morning of June 21, Make Music Day, each songwriter will video chat with one interviewee for an hour. In the afternoon, they will write a song inspired by their conversation. And that evening, they will do a second video chat with the person and give a live, private performance of the song they've just written.
Afterwards, videos of all fifty songs will be available on our website, opening a window into American lives and showing the power of music to connect us.
#MySongIsYourSong
This Make Music Day, we invite you to join in a local music song swap, where you will learn a song by another local artist, and hear yours covered in return. Songwriters and composers of all styles and walks of life are invited to participate in #MySongIsYourSong.
Find a partner in your community or beyond, swap songs, and learn them for June 21st. Share your videos on social media with #MySongIsYourSong to be a part of the celebration!
Email jonah@makemusicday.org to let us know you'll be participating!
Landmarks
Iconic buildings and landmarks will light up in orange across the United States on June 21, 2020 in support of Make Music Day. Click to see the complete list.
Track Meet
This year for Make Music Day, join composers, producers and songwriters from around the world in a collaborative race against the clock.
Over the course of six hours, teams of four musicians will create brand new original tracks in a creative relay. Using the virtual audio workstation SoundTrap, each musician will get 90 minutes to add their contribution before the next teammate takes over. At the end of the day, we will bounce each team's track and host them online for everyone to hear.
Interested in joining the Track Meet? Register to be matched with a creative team or sign up with your own group of four musicians by June 7th.
How It Works
If you are in North or South America, complete the registration form here. Registration for other parts of the world will be available soon.
On June 14th, we will connect you with your teammates and assign your timeslot. Set up your SoundTrap account (a free version is available) and get familiar with it.
When you start composing on June 21, you will have 90 minutes to work. Your contribution should use one instrument family, with your tracks marked with your assigned color. You must not edit any of your teammates' tracks.
After 90 minutes, the next team member will take over. Once your time is up, you cannot modify anything you've created.
When everyone's time is up, you have 30 minutes to revise your work together, and come up with a title. After 30 minutes, we will collect your work, in whatever state it's in, and share it with the world!
Heart Chant
Heart Chant – 5-6 pm ET
Registration to join this world-wide virtual performance of sonic healing and meditation is still open! Register here: https://www.musicrebound.com/heart-chant
"This Sunday, June 21 at 5:00pm ET, join us for The Heart Chant, a world-wide musical exchange led by IONE, Claire Chase, and Racquel Acevedo, hosted by the MUSIC on the Rebound and the International Contemporary Ensemble for #MakeMusicDay.
The Heart Chant is one of composer Pauline Oliveros's "Deep Listening" meditations, written in response to the terrorist attacks on September 11th, 2001. Last Make Music Day, nearly a dozen Heart Chants took place on three contents. This year, people anywhere in the world are invited to join this virtual performance for an offering of sonic healing through listening and vocalization. No music experience is necessary!
Tune in live from your phone or computer to be a part of a uniquely powerful collective that we need more than ever in this time of social distance and unrest. Register here: https://www.musicrebound.com/heart-chant"
World's Smallest Marching Band

Since 2011, dozens of Make Music Day celebrations around the country have featured the "Sousapalooza" – an invitation for hundreds of brass, wind, and percussion players to come together and sightread the music of The March King, John Philip Sousa.
In 2020, in lieu of these massive ga
therings, Make Music Day will explore the other end of the scale with The World's Smallest Marching Band. Individual brass and wind players will parade through cities, by themselves, playing band repertoire to people listening from their homes or workplaces. These Pied
Pipers (without rats or children) can bring musical joy in a year when parades are far and few between.
Interested in being a tiny marching band for Make Music Day? Contact Jonah Udall at jonah@makemusicday.org.
And check back soon to find a World's Smallest Marching Band coming to you!
Bash The Trash
This Make Music Day, join Bash the Trash Environmental Arts in raising awareness about trash pollution by building fun instruments from found objects!
The performers and educators of Bash the Trash are offering their innovative designs for wind, percussion and string instruments for an exciting new approach to building instruments from everyday refuse. These amazing instruments tackle issues of waste and offer us an opportunity to look at "trash" in a new way.
And thanks to D'Addario's Playback String Recycling program, free used guitar strings will be sent to you upon request to use for the Diddley Bow – just tell us where to send them.
Once you've built your instruments, play "Ode to Joy" or "Baby Shark" and post it with the hashtags #BashTheTrash #MakeMusicHomeMade and #LessTrashMoreMusic to join in the celebration. Visit the Make Music Day website for videos on how to create your instruments.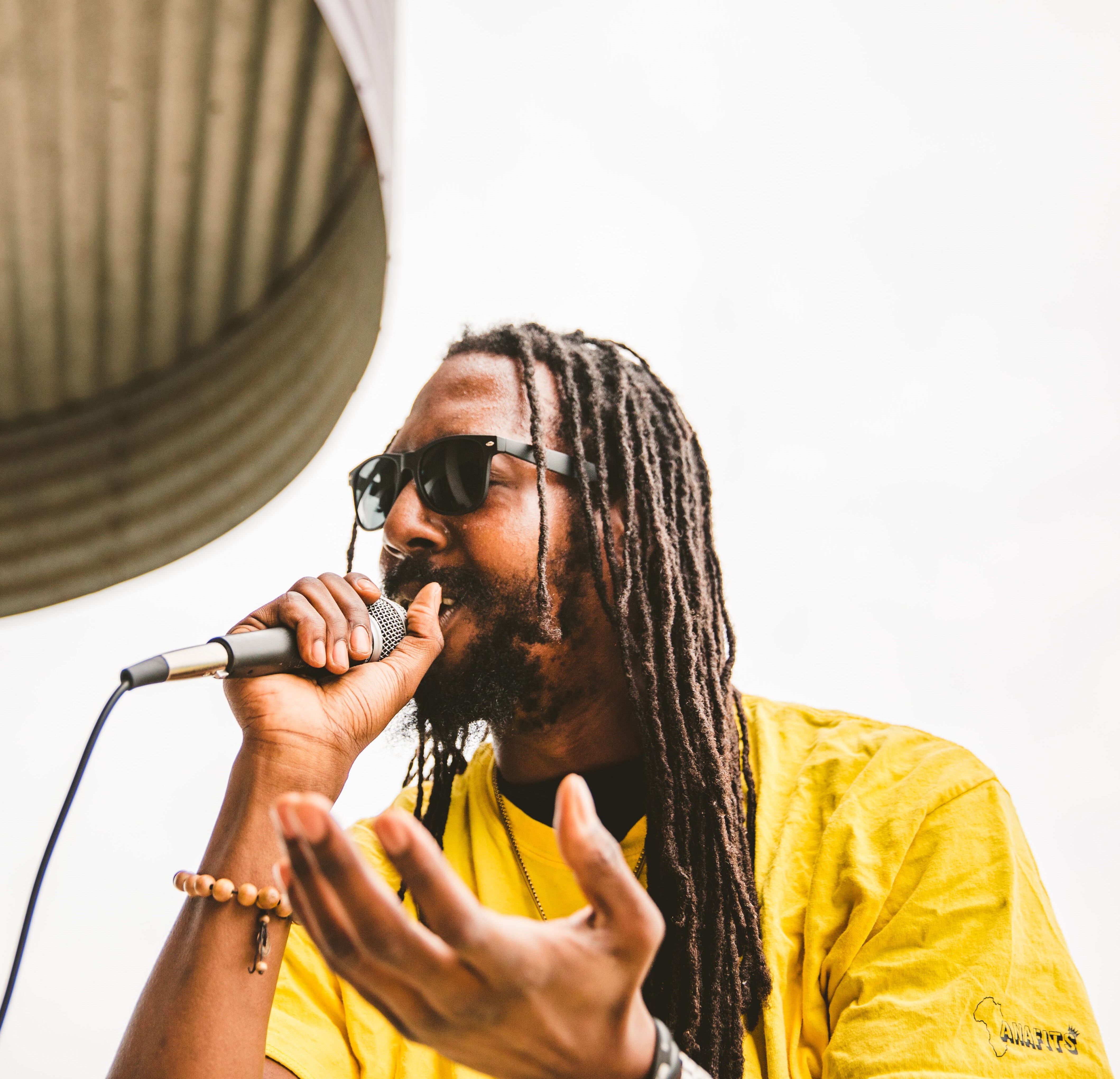 Make Music Madison is a volunteer-organized event and thrives on the support of our community.
This year's event is dedicated to raising funds for racial justice in music thorough a partnership with Urban Community Arts Network – UCAN and to support local musicians who have lost income due to COVID. If you can, please consider giving to these causes via our Paypal link.
Or checks can be sent to:
Make Music Madison
PO Box 5186
Madison, WI 53705
Make Music Madison is a 501(c)(3) nonprofit organization; all contributions are 100% tax deductible.
Sponsorship
Our partners benefit from co-marketing with an event that has become a summer highlight, and receive extensive exposure through print (including an Isthmus event program insert) and radio advertising, prominent placement on a highly trafficked website and mobile app, and on posters and banners at more than 100 venues. When the Solstice rolls around, we are everywhere.
To learn more about sponsoring this event, please contact us at info@makemusicmadison.org.
Platinum Partners
Gold Partners
Friends
Media Partners